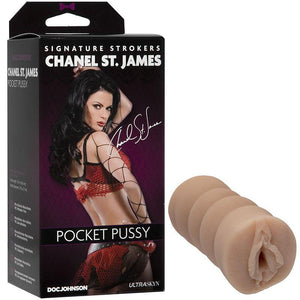 Doc Johnson
Chanel St. James Pocket Pussy
Chanel St. James Pocket Pussy

Probe the depths of a porn superstars pussy, with Chanel St. James' Kiss My Lips pocket pal.

Its molded directly from her living vagina, manufactured with the industrys most realistic flesh-like material, Doc Johnsons ULTRASKYN™.

Take an extra measure of pleasure knowing you're in a pussy that's body-safe and 100 percent phthalate-free.

Lifelike colors, with a textured interior just like Chanels.
- Fantasies do come true
- Plush Pocket Pussy's molded directly from Chanel St. James
- Featuring tight, textured tunnels
- Designed for easy one-handed use
- Made from ULTRASKYN™, The Ultimate Feel
- Proudly Build In America