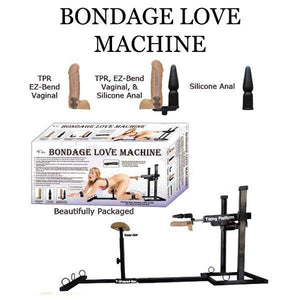 MyWorld
MyWorld Bondage Love Machine - Mains Powered Sex Machine
MyWorld Bondage Love Machine

Enjoy and play with your partner in new fun experiences using the Couples Bondage Love Machine.
Let your imagination to run wild, and experience an endless number of positions - vaginal and anal.
This is the only bondage machine in the marketplace that allows you to comfortably experience both vagina and anal loving.
This heat-treated, high-tensile strength steel framed Couples Bondage Love Machine is ergonomically designed to enable enjoyment by all heights and body shapes.
The thrusting rod comes with 2 exciting attachments that feel great and are easy to clean. The piston-action rod enables a stroke length of 6 cm to 17 cm, with amazing speeds from 40 to 260 RPM!
- Mains powered with Australian plug - no adapted needed!
- Includes dong with balls and silicone anal plug, which can both be attached at the same time via the double penetrator attachment!
- Rotates over 180 degrees for unlimited positions
- Bondage necklace, cuffs and chains not included.