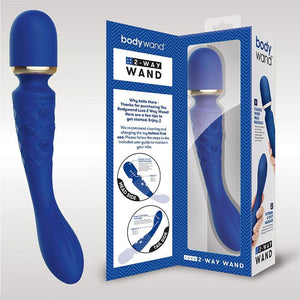 Bodywand
Bodywand Luxe 2-Way Wand 
Bodywand Luxe 2-Way Wand 

The Bodywand Luxe 2-Way Wand is exactly what it sounds like, a unique toy that has a head side and a tail side.

One side features a classic wand massager head great for external stimulation, and the other side features an ergonomic shape great for targeting the g-spot.
The Luxe 2-Way Wand has two separate motors, is made from body-safe silicone, and is USB rechargeable.