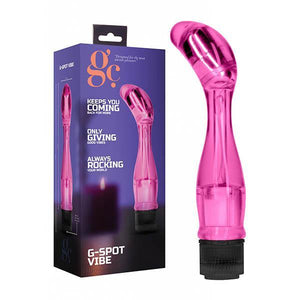 Shots Toys
GC. G-Spot Vibe Pink
GC. G-Spot Vibe Pink

If you are on the hunt for the exclusive G-Spot then the GC G-SPOT VIBE is the one for you.

The ergonomic shape is stylish and unintimidating, whilst offering versatility and incredible quality.
The generous tip of the vibrator offers plenty of contact with the G-spot for maximum pleasure. When this pinpoint stimulator hits its desired spot, it offers sensations of pleasure like no other erogenous zone.
Revving up to 11000 RPM and featuring a variety of multi-speed settings this waterproof G-spot vibrator is the real deal.
With its easy-to-use twist controls at the base, you'll be revving up to orgasm heaven in no time!
- Product dimensions: 22 x 5.7 x 4.2 cm
- Product weight: 177 grams
- Product diameter: 4.2 cm
- Insertable length: 18 cm
- Rotations per minute: 11000 RPM
- Multi speed: Yes
- Waterproof: Yes
- Phthalate free: Yes
- Materials: PVC
- Batteries: Requires 2 AA