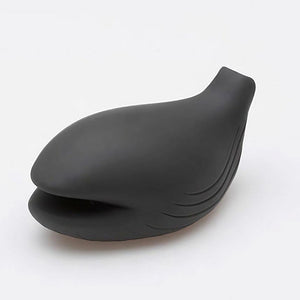 Redefining pleasure for women with the new Iroha+.
This series has a more powerful motor than its predecessors, with 5 speeds and 2 vibration patterns, mixed with three different dynamic designs, it provides pleasure in for all scenarios and situations. They are fully waterproof, with Iroha's unique super-soft silicone base, and an anti-dust coating for a more hygenic experience. Its plush body feels great against the sensitive areas, but also in the hand while it's being held. A simple, easy-to-use two-button design, with an easy-to-charge case, makes this device all the more versatile, and can be used by anyone, anywhere.
Yoru is a very versatile toy. Made with the characteristic plush body of Iroha, it's wide area provides stimulation for the whole vulva, and its thinner end is perfect for shallow penetration, while the open tip will tease and softly pinch any erogenous zones.
A new step forward is born with the Iroha+.
Product Features:
An open design that can be used to tease and squeeze.

Made with Iroha's unique Soft-Touch silicone

Covered in an anti-dust coating

Simple two-button control

Charging Pad for wireless charging

5 vibration strengths (Low - High) and 2 Rhythm Patterns (Rhythmic Pulsing and Enticing Pulsing)

Waterproof (up to 50cm)

Material: Body-safe silicone, Polycarbonate, Li-Ion Battery

Power type: USB rechargeable

Play time: 60 mins (full power)

Charging time: 2 hours

Product Contents: Product, Charging Case, USB Cable, User Manual

Size: 9.8 (L) × 5.5 (W) × 4cm (H)

Weight: 106g

Warranty: 1 year after purchase (from manufacturer)