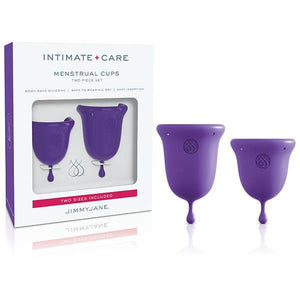 Pipedream
Jimmyjane Intimate Care Menstrual Cups
Jimmyjane Intimate Care Menstrual Cups

Progressive period care, by design. We know your lifestyle is busy and diverse.
Jimmyjane's pure silicone menstrual cups offer a custom solution for your unique, active lifestyle.
Created with the intimate female body in mind, the bell-shaped curves hug contours, while the fuller, ergonomic rim was designed to prevent any type of leakage.
Conveniently flexible for easy insertion. Removing your cup couldn't be simpler with strategic anti-suction holes that allow for a gentle break of seal suction. Consciously convenient. Mindfully reusable.
Efficiently eco-friendly. Choose Freedom Jimmyjane promises cups that were developed with easy everyday use in mind, offering convenience, comfort, and confidence for your overall lifestyle and wellbeing.
Anti-Suction Holes Strategically-designed holes allow the air-tight seal to be broken gently. Rim Diameter Fuller ergonomic rims have supple, curved edges for a snug seal and ultimate comfort.
Cup Capacity Small and regluar-sized cups offer options to accommodate varying flows. Cup Firmness 100% body-safe and FDA-cleared silicone is soft and flexible for all-day wearability.
Designer Bag Designer bag creates breathable, hygienic storage in a moisture-wicking material.
The discreet size is perfect for your purse. Menstrual Cups
Features:
- Flexible – Cups fold & bend for comfort & easy insertion
- Body-Safe – Made from 100% FDA-cleared silicone
- Comfort – Ergonomic design fits like a glove. Protective rims prevent leakage and spills
- Protection – Leak-Free for up to 12 hours at a time
- Reusable – Simply empty 2-3 times per 24 hours, wash & reinsert
1 Year Limited Warranty – We've got you covered
Regular Size Specs:
Diameter: 1.8 in. (45mm)
Cup Length: 2 in. (50mm)
Total Length: 2.6 in. (65mm)
Capacity: 21mL
Small Size Specs:
Diameter: 1.7 in. (43mm)
Cup Length: 1.6 in. (40mm)
Total Length: 2.2 in. (55mm)
Capacity: 14mL