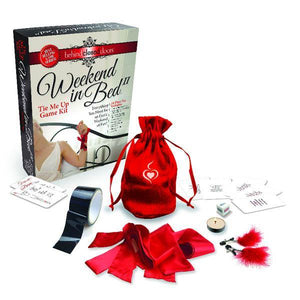 Little Genie
Behind Closed Doors - Weekend In Bed II
Behind Closed Doors - Weekend In Bed II

This Game/Kit offers sexy adventures that explore light, playful bondage.

Weekend in Bed II, Tie Me Up Edition includes 3 high-quality satin ties, stick-to-itself vinyl bondage tape, feathered nipple clamps, tea candle, illustrated position suggestion cards, playful scenario cards, his/her die, and a convenient red satin travel bag.
This new edition encourages seductive experimentation and complements our original Weekend in Bed Game Kit.