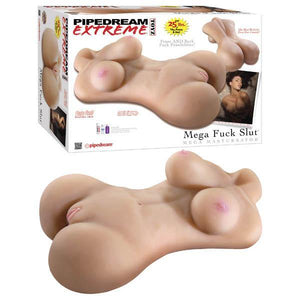 Pipedream
Pipedream Extreme Mega Fuck Slut
Pipedream Extreme Mega Fuck Slut

You've always dreamt of fucking a voluptuous hottie with36DD's, nice round hips and a super-tight waist, so what are you waiting for?

Take this busty babe out of the box, get out the free lube, and pound this Mega Fuck Slut 'til you Fuck Her Silly!
This mega masturbator is the most realistic replica we've ever created and the most realistic replica you've ever fucked ... And with over 25 lbs. of soft, Fanta Flesh engulfing and massaging your cock, this plush piece of pussy feels better than the real thing!
From her sexy shoulders to her wide round hips, flat stomach, and perfectly puffy pussy, she's the perfect woman... without the attitude and headaches! Squeeze and pinch her big, 36DD tits, then slide your cock between those massive mammaries and titty-fuck her all night.
Spread her cheeks, ram her tight little ass, and fill her with every inch of your man meat! She's warm, she's tight, and she NEVER says no! Real women aren't flat on the bottom side, and neither is this fuck slut!
Both sides of this buxom beauty are ready for your dick! Sit her up, lay her on her side, put her on the counter top or table...she's ready to please you in any position you can think of. She's all yours to enjoy, every inch of her!
Now flip her over on her stomach and fuck this curvy cutie doggy-style. Face down, ass up, that's the way she likes to fuck! She loves missionary, doggie, spooning from the side, whatever position you can come up with, she's game!
Try her in the bed with you and your partner and have a no-worry threesome without any of the drama. When you're done, blow a load deep inside her or cum all over her stomach and big tits.
Cleanup is a snap either way with Pipedream Toy Cleaner and warm water. After the masturbator dries completely, apply Fanta Flesh Revive Powder to restore the masturbator to soft, like-new quality.
Best of all, she tucks away under the bed or in the closet for easy storage after the fun. No commitments, no bullshit, and no worries about knocking her up. It's an all access, any time-any place piece of pussy and ass made for your cock!
NOTE: Both the pussy and ass openings connect to the same canal, which is approximately 7'' long. The walls of the tunnel are extremely tight and stretchy because the Fanta-Flesh mimics the most realistic experience ever.
The channels aren't very wide at all when you first start out... but with just a few uses, the elasticity will increase.
Use plenty of Moist lube to help ease entry. Both passages connect to one another, so if you run water into one, the debris will flush out the other.