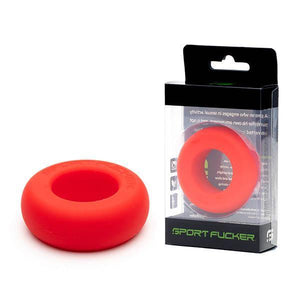 Sport Fucker
Sport Fucker Muscle Ring
Sport Fucker Muscle Ring

The Muscle Ring by Sport Fucker is by far the most comfortable Silicone Cockring on the market!
What makes the Muscle Ring by Sport Fucker so comfortable?
First the design. Thick enough not too cut-into your skin, but not so wide and thick that it's bulky.
But more importantly is the All New Silicone used to make these Muscle Rings.
You HAVE TO feel them to understand.
Words do not do the material justice, but to try, we would describe the all new silicone as silky, stretchy and firm.
- Use as a Cockring or a ball stretcher
- Stretches to fit any man's junk