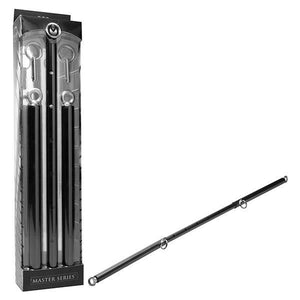 XR Brands
Master Series Steel Adjustable Spreader Bar
Master Series Steel Adjustable Spreader Bar

Keep your plaything in place and spread them wide with this darkly sexy spreader bar.

Made of durable steel, it adjusts between 58 and 89 cm.
This black bar has eyebolts securely attached to each end.

Wrist and ankle cuffs can be attached to the bar as you desire, making it not only a vital accessory to your bondage play, but a warm welcome to any devious collection.
Measurements: Adjusts from 58 to 89 cm in length
Material: Steel, metal Colour: Black
Note: Comes with bar and two metal locking pins