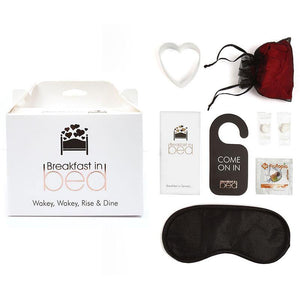 Creative Conceptions
Breakfast In Bed - Lovers Kit - 7 Piece Set
Breakfast In Bed - Lovers Kit - 7 Piece Set
Everyone knows Breakfast in Bed is a real treat, but this kit has all of the ingredients to make this dining experience the best one yet!
Take the phone off the hook, hang your Do Not Disturb Sign on your door and snuggle up to decide what you would like from the mini menu, surrounded by Rose Petals of course!
The included breakfast 'menu' not only has delicious food and drink ideas to tempt your partner into a long lie in. Y
our Breakfast in Bed may start off with a truly romantic feel, but it should end in a very naughty treat for the both of you.
- Do Not Disturb Door Hanger - Black Satin Blindfold
- Heart Shaped Cookie Cutter
- Mini Bag of Rose Petals
- 2 x Breathmints
- 1 x ID Frutopia Lubricant Sachet
- Breakfast 'Menu' containing helpful ideas and suggestions for a glorious morning!